Welcome to the award winning Clever Dog Graphic & Sign Company.
I founded the business in 2006, since then Clever Dog has developed a well earned reputation as a leading, premium quality supplier of signs and graphics throughout Napier and the Hawke's Bay region.
Our passion is in striving to achieve excellence in all things and we thrive on creating outstanding graphics and signs for any type of client, be it a sole trader, large corporation or anything in between; commercial, industrial or private.
We like to stay abreast of current trends and technologies in our industry, and have the ability to employ the most appropriate method for the job in hand, be it computer cut graphics, large format digital output or traditional sign writing using brush and paint. To this end, we are very much hands-on craftsmen, at one with the tools and techniques of our trade.
All prospective work is quoted up front and the specs agreed with the customer prior to starting. You are kept well informed of progress at every stage of the project. Our aim is to provide 100% customer satisfaction through creativity, technical skill and delivering what we say we will, when you need it and on budget.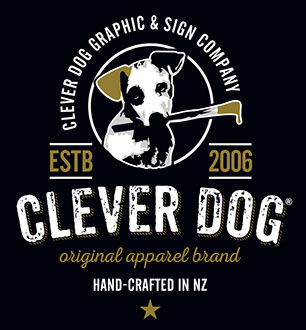 Through the pages of this website I hope you get a sense of the variety of customers we serve, and the type of work we love to do. If you're looking for a versatile graphics and sign supplier for any kind of project in the wider Hawke's Bay region. Please feel free to contact me anytime for a quote or if you need qualified no-obligation advice. I'd love to hear from you.
Ethan Grant Owner and Director
Clever Dog Graphic & Sign Company
Napier NZ
testimonial
As a branding designer, it's vitally important to me and my clients that the design concepts I create are faithfully reproduced. I can always rely on Ethan to go that extra mile when it comes to producing work to the highest standard. It's gratifying to know that there are other perfectionists out there like Ethan, who share my passion for achieving the best possible result for our customers.
Ethan's attention to detail and willingness to do whatever it takes to do the job right first time is to be commended. I always look forward to the next opportunity of working with Clever Dog. Nothing is ever a problem and I know that I'm dealing with the best.
Ethan and I have worked on a number of successful projects together so it's my pleasure to whole heartedly endorse the Clever Dog Graphics & Sign Company.

I have no hesitation in recommending Ethan and Clever Dog for any graphic, branding and sign project you may have.
Glenn Conroy